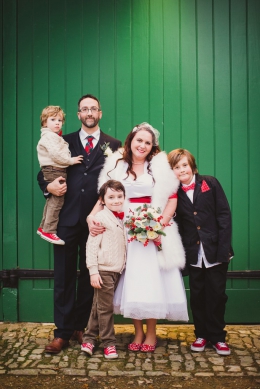 I'm a family girl, a people person, I love being busy.  I'm positive and full of enthusiasm and see the beauty in everyone and everything.  Married to my wonderful husband Steve and a proud mum to 3 gorgeous boys; Reuben, Elijah & Seth.
I love dogs!  We had 3 beautiful rescue lurchers for the best part of 15 years but sadly we lost them all to old age… Now we have two gorgeously crazy little chihuahuas called Rafael aka Raffy and Willow who we absolutely adore.  They make us laugh every day with their silly antics.
I am relaxed, fun-loving and friendly and will capture your day as it happens – no bossy shouting from me to pose or perform to the camera, just fun direction when needed and lots of smiles & plenty of natural moments captured!
I use explanation marks way too much (!!) and will sign emails off with a kiss rather than yours sincerely  😀
I love … the beach and mountains in equal measures, walking (lots!), live music (I'm currently learning to play the guitar), singing & dancing (I hope I'm not completely tone deaf but I'm pretty sure I have two left feet – doesn't stop me though!), Christmas is my favourite time of year, and it has been known for me to indulge in the odd glass of prosecco or two (doesn't have to be Christmas for that!) 😉
Have a peek at my little "About me" video to get a feel for who I am and what I'm about… (with thanks to my dear friend Kelly for this x )
Want to know more? …  click to read about my style and how it all began.



But really, that's enough about me!  I'd love to hear all about you – so please use the message me tab at the top to tell me all about your plans 🙂